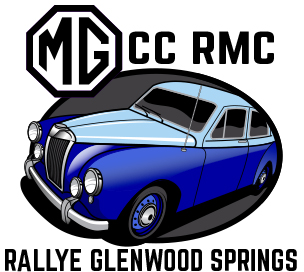 68TH ANNUAL RALLYE GLENWOOD SPRINGS
OCTOBER 3, 2020
The Glenwood Committee has decided upon a unique event this year, given the "virus that won't go away" pandemic. While events of all stripes have been canceled across the state, the committee has worked hard to preserve the heritage and unbroken track record of the Rallye Glenwood Springs, while working within a unique set of constraints.
That's putting it mildly. It's certain that there will be fewer participants this year. Many people are understandably reluctant to eat in restaurants and to stay overnight in hotels. Given that Glenwood is a four- to six-hour drive from Denver, depending upon the route and number of checkpoints, a single day, out-and-back trip all the way to Glenwood is not desirable for most. On the other hand, fewer participants mean a smaller operating budget for the rallye.
A significant portion of the budget is set aside each year for event insurance. COVID-19 aside, some major event insurers have decided that any car event in which timing or speed is involved, TSD rallies included, can no longer be covered, narrowing the field to those few insurers who understand what a TSD rallye actually is. And those guys aren't cheap. In a normal year, with a normal budget, Rallye organizers could weather this storm. Not this year.
Given the circumstances, the committee has proposed the following changes for this year's Rallye Glenwood Springs:
• THERE WILL BE A ONE DAY, OUT-AND-BACK TOUR LEAVING FROM AND RETURNING TO THE WESTERN EDGE OF METRO DENVER, FOR A TOTAL OF FOUR TO SIX HOURS ROUNDTRIP.
• THERE IS NO TIMING OR SPEED COMPONENT TO THE TOUR.
• THE TOUR WILL BE CALLED THE "RALLYE GLENWOOD SPRINGS TOUR," IN ORDER TO MAINTAIN TRADITION.
• WE WILL NOT BE TRAVELING TO GLENWOOD SPRINGS AS A CLUB.
• THERE WILL BE NO CLUB SANCTIONED SOCIAL OR OTHER EVENTS ASSOCIATED WITH THE RALLYE THIS YEAR, INCLUDING THE GEARSHIFT SOCIAL, FUNKHANA, OR CAR SHOW.
• PARTICIPANTS IN THE RGS TOUR WILL RECEIVE A SPECIAL COMMEMORATIVE DASH PLAQUE.
• THERE WILL BE NO ENTRY FEE FOR THE TOUR, BUT YOU MUST REGISTER IN ADVANCE. THE CLUB WILL BE REFUNDING ANY REGISTRATION FEES PAID BY ENTRANTS, LESS ANY THIRD PARTY PROCESSING FEES.
Organizers are hoping for a good turnout, and that the changes to this year's events are received positively by club members and other participants. "We're making the best of the situation," said committee chair Keith Kerr. "The alternative is to cancel and wait until next year. That's not how we want to do things. We're pressing on, but with some commonsense changes that will help keep us all safe."
Your Event Hosts
Event Chairman: Keith Kerr – 303-827-6226 or keith.kerr@kerrtransformations.com
Registrar: Pam Frakes – 303-748-9773 or mgccglenwoodrallye@gmail.com
Venue Coordinator: Neil White – 303-325-1057 or neilwhite37@hotmail.com
Thank you to all from your friends at the MGCC – RMC
Sponsors