Rallye Glenwood Springs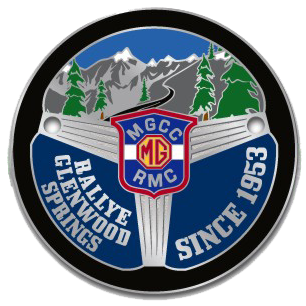 The first Rallye Glenwood Springs began with a hardy group of MGCC-RMC sports car owners who discovered the joys of top-down motoring in Colorado when MGs still had running boards and the new TR2 and powerful XK-120 were just beginning to be sold by Colorado car dealers. Imagine what Colorado mountain roads were like during that 1953 Rallye—gravel (some pavement!), no guardrails, single-lane bridges, hairpin curves, sheer cliffs, and thin air.
The Rocky Mountains of central Colorado, with some of the most breathtaking scenery in America, have formed the backdrop for the Rallye Glenwood Springs through fifty-nine previous years. Vintage and classic cars from as far away as California and Illinois have shared the twisting mountain roads with their newer counterparts for octane-related festivities. Enthusiasts have come from as far away as England to drive borrowed MGCC-RMC cars through such fabled Colorado mining towns as Leadville and Aspen on their way to Glenwood Springs.
This milestone weekend is a marvelous opportunity for not only MG owners but for all car enthusiasts of every marque—British, American, European, Asian—to come together for sunny days, cool nights, and unique events.
Register for the 2018 Rallye Glenwood Springs
---
Previous Years