Rallye Glenwood Springs 2017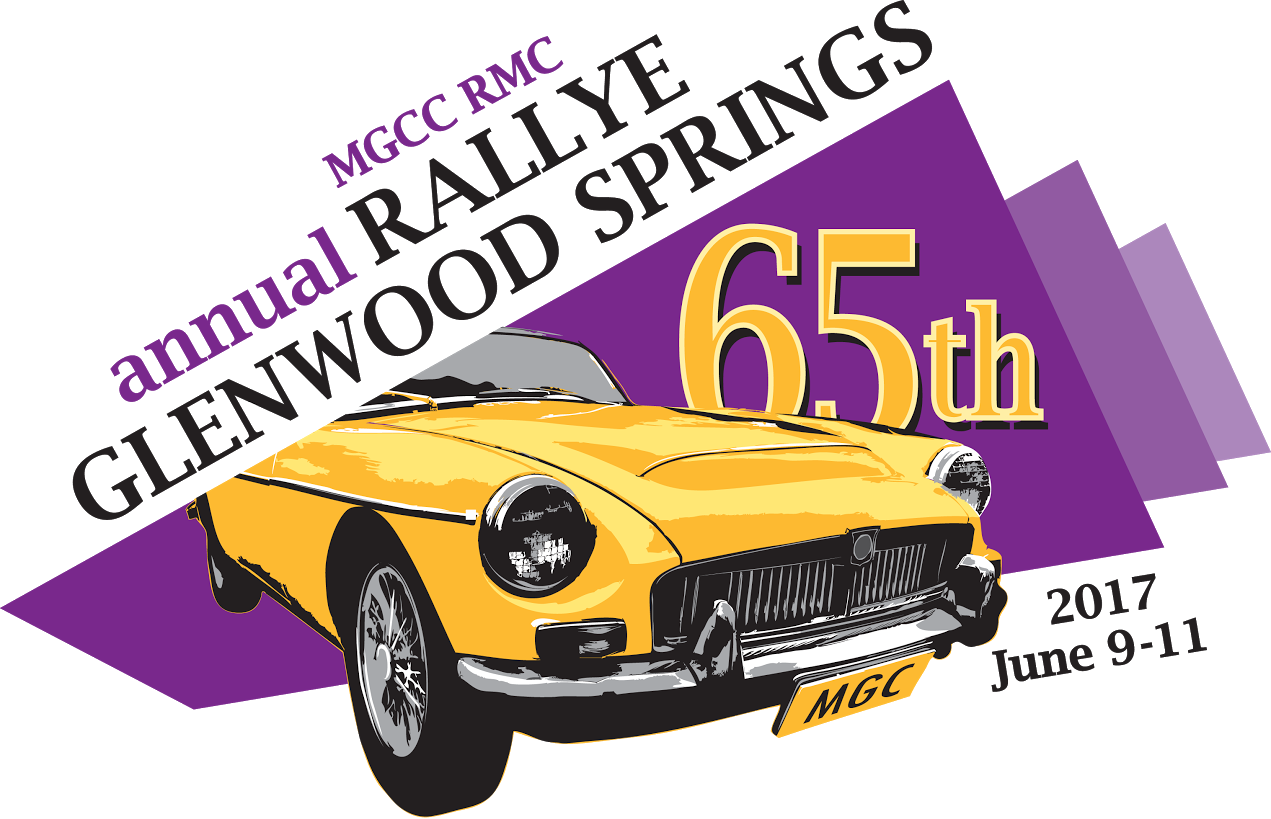 The MG Car Club – Rocky Mountain Centre invites you to help us celebrate our 65th Annual Rallye Glenwood Springs, the oldest continually-held time-speed-distance rallye in the United States, June 9-11, 2017.
The first Rallye Glenwood Springs began with a hardy group of MGCC-RMC sports car owners who discovered the joys of top-down motoring in Colorado when MGs still had running boards and the new TR2 and powerful XK-120 were just beginning to be sold by Colorado car dealers. Imagine what Colorado mountain roads were like during that 1953 Rallye—gravel (some pavement!), no guardrails, single-lane bridges, hairpin curves, sheer cliffs, and thin air.
The Rocky Mountains of central Colorado, with some of the most breathtaking scenery in America, have formed the backdrop for the Rallye Glenwood Springs through fifty-nine previous years. Vintage and classic cars from as far away as California and Illinois have shared the twisting mountain roads with their newer counterparts for octane-related festivities. Enthusiasts have come from as far away as England to drive borrowed MGCC-RMC cars through such fabled Colorado mining towns as Leadville and Aspen on their way to Glenwood Springs.
This milestone weekend is a marvelous opportunity for not only MG owners but for all car enthusiasts of every marque—British, American, European, Asian—to come together for sunny days, cool nights, and unique events.
This year we are celebrating the 50th Anniversary of the MGC Roadster and GT during the Rallye Glenwood Springs.  The 6 cylinder, 2912cc, 145 bhp, MGC was introduced at the 1967 London Auto Show and was the first production MG to have metallic paint offered. The MGC was based on the MGB and intended as a replacement for the Austin-Healey 3000.
Event Information
2017
Event Information
Rallye Documents
Event Results
Results will be posted shortly after the Rallye.

Schedule of Events
Friday, June 9th
7:00 a.m. – Mimi's Cafe, 14265 W Colfax Ave, Open for Breakfast, Lakewood
7:00 a.m. – Registration and Regalia Opens at Start-line, Mimi's
7:25-7:45a.m. – Rallye Q&A time. Beginner's can ask questions of experienced rallyists
8:01 a.m. – First Rallye Car Departs, Mimi's Café, Lakewood
4:00 p.m. – Hospitality & Regalia, Courtyard Marriott Main Level, Glenwood Springs
Saturday, June 10th
9:00 a.m. – First Tour Car Departs from Two Rivers Park, Glenwood Springs
3:00 p.m. – Hospitality & Regalia, Courtyard Marriott Main Level, Glenwood Springs
6:00 p.m. – Gear Shift Social, Courtyard Marriott, Glenwood Springs
7:00 p.m. – Light Buffet to be served
Sunday, June 11th
All events take place at the Two Rivers Park, Glenwood Springs
8:00 a.m. – Parking for Car Show Begins – Coffee & light breakfast available
8:00 a.m. to 11:00 a.m. – Funkhana
9:00 a.m. – Regalia Sales open, Car Show Entrants should be in place
9:00 a.m. to 12 Noon – Car Show
10:00 a.m. – Lunch & other Snacks available
11:00 a.m. – Car Show Voting Ends
12:30 p.m. – Awards Presentation