MG's Z Magnette is the featured car of our 69th Annual Rallye Glenwood Springs.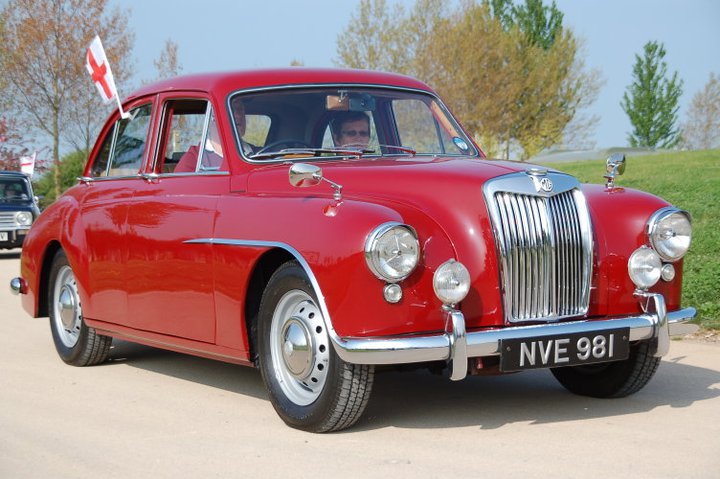 MG Magnette sports sedans were produced from 1953 to 1968. ZA and ZB Magnettes were manufactured from 1953 to 1958 and the Mark III and Mark IV Farinas from 1959 to 1968. Both series used a modified Wolseley body and an Austin engine.
MG Cars had previously used the Magnette name on their six cylinder K-type (1932-34) and N-type (1934-36) models. The K-Type took the name Magnette as it had a slightly smaller capacity engine, 1087 cc, vs. the replaced F-Type Magna, 1272 cc.
The Magnette ZA debuted at the 1953 London Motor Show, as the first monocoque car to bear the MG badge. Designed by Gerald Palmer (of Jowett Javelin fame), it was the first appearance of the new four cylinder 1,489 cc B-Series I4 engine with a pair of 11⁄4" SU carburetors. The ZA produced 60 bhp, coupled via BMC's new four speed manual gearbox (synchromesh on the top three ratios), for a top speed of 79.7 mph. 18,076 ZA's were built from 1954 to 1956.
Steering was by rack and pinion, with independent front suspension and a live rea axle. Hydraulically operated Lockheed 10" drum brakes were front/ rear. ZA's had standard 5.5-15 Dunlop tires, but could have the newly developed radial-ply Pirelli Cinturato 145HR15 tires.
The ZA had leather trimmed individual front and rear bench seats, and child-proof door latches. The dashboard and door caps were in polished mahogany and walnut wood. Heaters were standard, radios were an optional extra. Body colors were black, maroon, green, and grey.
The similarly shaped Wolseley 4/44, first sold in 1952, used the 1250 cc XPAG engine of the TD. Although visually similar, the MG has lower suspension and only the front doors, boot lid and roof panels are shared. The 4/44 was replaced in 1956 by the 15/50.
In October 1956, the Magnette ZB improved performance to 64 hp with 1 1⁄2" carburetors, increased compression ratio from 7.5 to 8.3, and modified manifold. The extra power increased top speed to 86 mph and reduced 0–60 mph time to 18.5 seconds. Wolseley's 15/50 shared the ZB's B-Series engine. The 1956 ZB was the fastest 1.5-litre saloon on the market.
Varitone models featured a larger rear window and optional two-tone paintwork. A standard Pressed Steel body shell rear window opening was enlarged in the Morris Motors Cowley body shop before painting. MG sold semi-automatic transmissions, marketed as Manumatic, as an option in 1957 to 496 Magnettes. 18,524 ZBs were built.
In popular culture In the original photo-book insert for The Who's album Quadrophenia, a ZB Magnette is the car pictured with its window being shattered and then flipped over on its roof. In the BBC series, "Call the Midwife", Dr. Patrick Turner drives an MG Magnette.