We are pleased to announce our 68-year Rallye Glenwood Springs tradition will continue! Due to the ongoing pandemic and concern for the health and safety of our members and guests, the event this year will be held on October 3, 2020 and will consist of a Rallye Glenwood Springs Tour that departs from Gunther Toody's in Littleton between 8:30 and 9:00 with a five to six hour drive time, and finishes at a location participants will discover during the tour. Add your coffee breaks and lunch onto the total time for the day. Packages will be available in the parking lot starting at 8:00. The tour is out-and-back from Denver so everyone will be able to spend Saturday night at home.
If you want to have breakfast before the tour, arrive at the Gunther Toody's parking lot by about 7:30.  In addition to Gunther Toody's, there is a Starbucks and Einstein's Bagels in the same strip mall.  The restaurants are located in Chanson Plaza at 8266 W Bowles Ave, Littleton, CO 80123.  The event is free however we request you sign up online so we know how many cars will be going and can staff appropriately.  Register here.  At the end of the tour each car will receive a commemorative 2020 Rallye Glenwood Springs award, up to 100 cars.
Registration fees for the original event have been refunded.  If you haven't received your refund, contact Keith Kerr (keith.kerr@kerrtransformations.com) and he'll get it taken care of.
The hotel reservations in Glenwood Springs should have been canceled already but please check online or call to make sure. The hotel contact information is below:
Courtyard Marriott Glenwood Springs: (970) 947-1300
Marriott Residence Inn Glenwood Springs: (970) 928-0900
Regalia is offered and can be purchased online.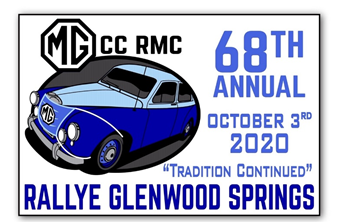 Please adhere to all State of Colorado and CDC guidance on social distancing. Safety of our members and guests is of paramount importance and we take that responsibility very seriously. We appreciate your patience and understanding.
We are looking forward to seeing you on Saturday, October 3 for the most unique Rallye Glenwood Springs event ever!