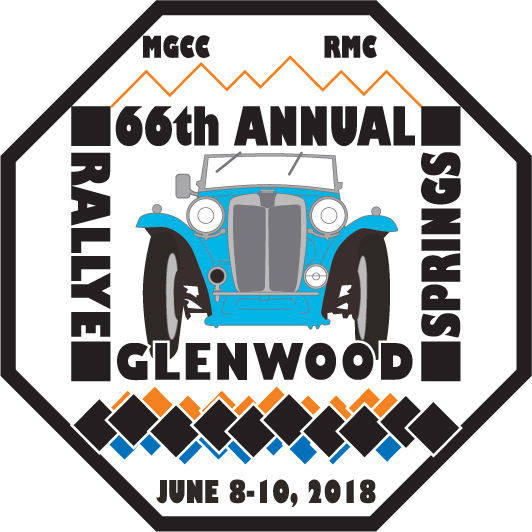 66TH ANNUAL RALLYE GLENWOOD SPRINGS, JUNE 8-10, 2018
The MG Car Club – Rocky Mountain Centre invites you to join us for the 66th Annual Rallye Glenwood Springs, the oldest continually-held time-speed- distance rally in the United States, on Friday, Saturday, and Sunday, June 8, 9, 10, 2018.
The weekend is a marvelous opportunity, not just for MG owners, but for sports car enthusiasts of every marque (British, American, German, Italian, Japanese) to come together for sunny days, cool nights, and unique events. The fun begins on Friday with the Tour to Glenwood Springs, which will take you through some beautiful scenery on the way to Glenwood Springs. Saturday's main event is the more rigorous time-speed- distance rallye to challenge both novice and experienced rallyists, starting and finishing in Glenwood Springs, rallying through canyons and over mountain passes in the heart of the Rocky Mountains.
Again, this year is a youth tour so that your kids will have their own tie-breaker questions to answer. Spend the day winding through the beautiful mountain valleys around Glenwood Springs. The weekend culminates with a social gathering Saturday night and the Car Show, Funkhana, and Awards Presentation on Sunday.
Since its inception, the MGCC-RMC has sponsored the Rallye, which began when a hardy group of sports car owners discovered the joys of motoring in Colorado in MGs that still had drop- down tops and running boards. The Rocky Mountains of central Colorado, with some of the most breathtaking scenery in America, formed the backdrop for the Rallye Glenwood Springs through 65 previous years. Vintage and classic cars from as far away as California and Illinois have shared the twisting mountain roads with their newer counterparts for octane-related festivities. Enthusiasts have come from as far away as England to drive their sports cars through such fabled Colorado mining towns as Leadville and Aspen on their way to Glenwood Springs.
Your Event Hosts
Event Chairman: Keith Kerr – 303-827- 6226 or keith.kerr@kerrtransformations.com
Registrar: Pam Frakes – 303-748- 9773 or mgccglenwoodrallye@gmail.com
Venue Coordinator: Neil White – 303-325- 1057 or neilwhite37@hotmail.com
Thank you to all from your friends at the MGCC – RMC
Event Information
Schedule of Events
Friday, June 8th
7:00 a.m. – Registration and Regalia Opens at Start-line, Gunther Toody's 8266 W Bowles Ave, Littleton, CO 80123
7:30 a.m. – 9:00 a.m. – Tour cars depart from Gunther Toody's in Littleton
4:00 p.m. – Hospitality & Regalia, Courtyard Marriott Main Level, Glenwood Springs
Saturday, June 9th
7:20-7:40 a.m. – Rallye Q&A time. Beginners can ask questions of experienced rallyists
8:01 a.m. – First Rallye Car Depart from Two Rivers Park, Glenwood Springs
3:00 p.m. – Hospitality & Regalia, Courtyard Marriott Main Level, Glenwood Springs
6:00 p.m. – Gear Shift Social, Courtyard Marriott, Glenwood Springs
7:00 p.m. – Light Buffet to be served
Sunday, June 10th
All events take place at the Two Rivers Park, Glenwood Springs
8:00 a.m. – Parking for Car Show Begins
8:00 a.m. to 11:00 a.m. – Funkhana
9:00 a.m. – Regalia Sales open, Car Show Entrants should be in place
9:00 a.m. to 12 Noon – Car Show
10:00 a.m. – Lunch & other Snacks available
11:00 a.m. – Car Show Voting Ends
12:30 p.m. – Awards Presentation
Lodging
The host hotel for the 2018 Rallye Glenwood Springs will once again be the Courtyard Marriott. For those who want to clean off the road grime from the car from the trek up, we will have a wash area at the hotel on Friday afternoon and Saturday afternoon. We look forward to seeing all of our friends, acquaintances (and their cars) to swap car stories and lies once again. For out of town participants needing a place to stay Thursday night, some options are listed below.
Rooms must be guaranteed with Credit Card or Prepayment.
Thursday Night
Hampton Inn and Suites – (303) 973-2400
7611 Shaffer Pkwy, Littleton, CO 80127
Homewood Suites – (720) 981-4763
7630 Shaffer Pkwy, Littleton, CO 80127
Holiday Inn Express – (720) 981-1000
12683 W Indore Pl, Littleton, CO 80127
Friday & Saturday Night
Mention you are with the MGCC Rallye Glenwood Springs for the group rate.
Host Hotel – Friday and Saturday
Courtyard Marriott – Rallye Headquarters, 105 Wulfsohn Road,
Glenwood Springs, 970-947- 1300. Rates are $122 + tax per night.
Discounts are valid until 5-12- 17.
Alternate Lodging – Friday and Saturday
Marriot Residence Inn – 125 Wulfsohn Rd., Glenwood Springs 970-366- 5021.
Rates are $133 + tax per night. No rooms are on hold, based on availability only.
Hampton Inn – Glenwood Springs – 970-947- 9400
Best Western Antlers – Glenwood Springs 970-945- 8535.